Asia-Pacific Consortium on Agricultural Biotechnology and Bioresources
REGIONAL EXPERT CONSULTATION ON AGRICULTURAL BIOTECHNOLOGY – SCOPING PARTNERSHIP TO IMPROVE LIVELIHOODS OF FARMERS IN ASIA-PACIFIC


Date: May 29-31, 2018
Location: Bangkok (Thailand)
Organizer: APAARI
APAARI will be organizing a "Regional Expert Consultation on Agricultural Biotechnology – Scoping Partnership to Improve Livelihoods of Farmers in Asia-Pacific" at Bangkok on May 29-31, 2018. The purpose of the Expert Consultation is to provide a platform to explore initiatives and mechanisms of sustainable partnership and networking for capacity and institutional building, developing regulatory framework, communication strategies, enabling policies for application of biotechnologies. It will also provide an opportunity for scoping the new and innovative ways of making investments in agricultural biotechnology to improve the livelihoods of farmers in Asia-Pacific region. The expected output of the Expert Consultation is to develop the sustainable partnership between public and private sectors for knowledge sharing on experiences and best practices, and AR4D collaboration to harness the potential of agricultural biotechnology in the region. New institutional public-private partnerships can also be established for co-investment in agricultural biotechnology through innovative funding mechanisms.
Concept note
Tentative technical program
NEW! Pictures of the event here
---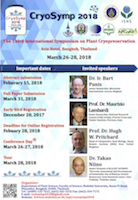 THIRD INTERNATIONAL SYMPOSIUM ON PLANT CRYOPRESERVATION (CRYOSYMP 2018)
Date: March 26-28, 2018
Location: Hotel Asia, Bangkok (Thailand)
Organizer: Department of Plant Science, Faculty of Science, Mahidol University, Bangkok
The general scope of the symposium is aimed at recent advances in all fundamental and applied plant cryopreservation, as well as to promote and support the global efforts of conserving plants and to create an interactive opportunity for scientists and professionals involved in research, education and industry on a global scale.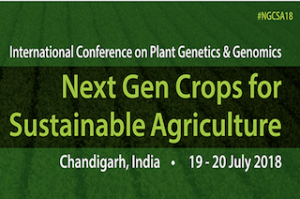 INTERNATIONAL CONFERENCE ON PLANT GENETICS AND GENOMICS, "NEXT GEN CROPS FOR SUSTAINABLE AGRICULTURE"
Date: July 19-20, 2018
Location: Chandigarh (India)
Organizer: SELECTBIO
The conference will focus on Genetic & Omics Technologies for Crop Improvement & Immunity. It will highlight Advanced Techniques for Plant Profiling, Sequencing & Editing including Analytical techniques, Genomics assisted Breeding, High Throughput techniques, Gene mapping, High Performance Computing, GWAS, NGS, CRISPRs, TALENs & ZFNs and others. The meeting will also discuss about Agronomics aspects & Beneficial Plant-Microbe Interactions to gain insights into Soil Chemistry & Plant Physiology for Improved Agricultural Production.
---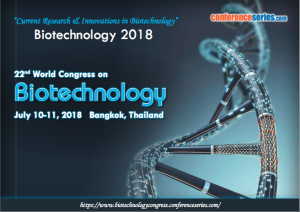 22nd WOLRD CONGRESS ON BIOTECHNOLOGY
Date: July 10-11, 2018
Location: Bangkok (Thailand)
Organizer: Conference Series
Theme: Current Research & Innovations in Biotechnology
This international gathering (Biotechnology 2018) anticipates hundreds of delegates including keynote speakers, oral presentations by renowned speakers and poster presentations by students besides delegates around the world. This conference creates an ideal platform to share expertise addressing current advancements involved in Biotechnology. 
---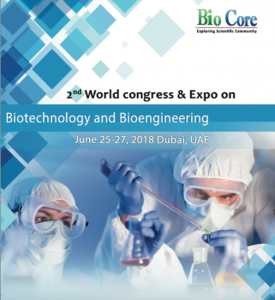 2nd WORLD CONGRESS & EXPO ON BIOTECHNOLOGY AND BIOENGINEERING
Date: June 25-27, 2018
Location: Dubai (UAE)
Organizer: Biocore
This event will focus on various important disciplines of biotechnology and bioengineering. This conference will have a variety of plenary lectures, session lectures and poster presentations, Scientific Exhibitions, Panel Discussions, and the B2B meetings with World-renowned Speakers, biotechnologists, pharmaceutical professionals and leading specialists involved in biotechnology and bioengineering.