Asia-Pacific Consortium on Agricultural Biotechnology and Bioresources


REGIONAL EXPERT CONSULTATION ON AGRICULTURAL BIOTECHNOLOGY – SCOPING PARTNERSHIP TO IMPROVE LIVELIHOODS OF FARMERS IN ASIA-PACIFIC
Date: May 29-31, 2018
Location: Bangkok (Thailand)
Organizer: APAARI
APAARI will be organizing a "Regional Expert Consultation on Agricultural Biotechnology – Scoping Partnership to Improve Livelihoods of Farmers in Asia-Pacific" at Bangkok on May 29-31, 2018. The purpose of the Expert Consultation is to provide a platform to explore initiatives and mechanisms of sustainable partnership and networking for capacity and institutional building, developing regulatory framework, communication strategies, enabling policies for application of biotechnologies. It will also provide an opportunity for scoping the new and innovative ways of making investments in agricultural biotechnology to improve the livelihoods of farmers in Asia-Pacific region. The expected output of the Expert Consultation is to develop the sustainable partnership between public and private sectors for knowledge sharing on experiences and best practices, and AR4D collaboration to harness the potential of agricultural biotechnology in the region. New institutional public-private partnerships can also be established for co-investment in agricultural biotechnology through innovative funding mechanisms.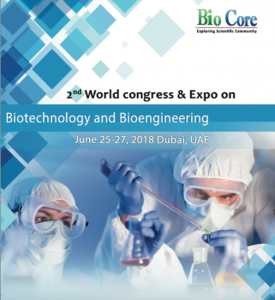 2nd WORLD CONGRESS & EXPO ON BIOTECHNOLOGY AND BIOENGINEERING
Date: June 25-27, 2018
Location: Dubai (UAE)
Organizer: Biocore
This event will focus on various important disciplines of biotechnology and bioengineering. This conference will have a variety of plenary lectures, session lectures and poster presentations, Scientific Exhibitions, Panel Discussions, and the B2B meetings with World-renowned Speakers, biotechnologists, pharmaceutical professionals and leading specialists involved in biotechnology and bioengineering.
---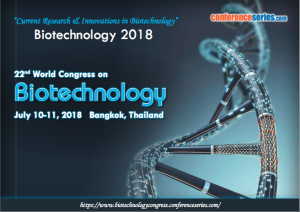 22nd WOLRD CONGRESS ON BIOTECHNOLOGY
Date: July 10-11, 2018
Location: Bangkok (Thailand)
Organizer: Conference Series
Theme: Current Research & Innovations in Biotechnology
This international gathering (Biotechnology 2018) anticipates hundreds of delegates including keynote speakers, oral presentations by renowned speakers and poster presentations by students besides delegates around the world. This conference creates an ideal platform to share expertise addressing current advancements involved in Biotechnology. 
---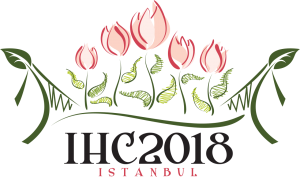 30th INTERNATIONAL HORTICULTURAL CONGRESS (IHC2018)
Date: August 12-16, 2018
Location: Istanbul (Turkey)
Organizer: International Society for Horticultural Science (ISHS)
IHC2018 provides a platform for scientists, technicians, students, consultants, engineers, extension agents, growers, industry, trade and consumer organisations, policy makers and many other professionals having an interest in horticulture. It is heavily focused on research and innovation and will have training components related to various fields of horticulture. The motto of IHC2018 is decided as 'Bridging the World through Horticulture'. 
---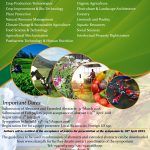 SLCARP INTERNATIONAL RESEARCH SYMPOSIUM
Date: August 13-14, 2018
Location: Colombo (Sri Lanka)
Organizer: Sri Lanka Council for Agricultural Research Policy (SLCARP)
This is the second International Research Symposium organised by SLCARP. It will be held at the Sri Lanka Foundation, Colombo, and will cover a wide range of themes, from crop production technologies to plant protection, forestry, aquatic resources, biotechnology, food science and many more.
---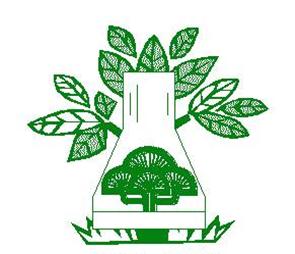 THE VIII INTERNATIONAL SCIENTIFIC AND PRACTICAL CONFERENCE "BIOTECHNOLOGY AS AN INSTRUMENT FOR PLANT BIODIVERSITY CONSERVATION (PHYSIOLOGICAL, BIOCHEMICAL, EMBRYOLOGICAL, GENETIC AND LEGAL ASPECTS)"
Date: October 01-05, 2018
Location: Yalta (Russia)
Organizer: Federal Agency for Scientific Organisations, The Russian Academy of Sciences, International Society for Horticultural Science (ISHS)
The work of the conference will include scientific sessions, discussions in the format of the "round tables" and seminars. The program of the conference includes the following topics for discussion: Investigations of plant biodiversity in vitro, in situ and ex situ; clonal micropropagation of plants, creation of in vitro plant collections, methods for germplasm conservation; molecular genetics techniques for plant biodiversity studies; biochemical studies of plant germplasm; and many more.
---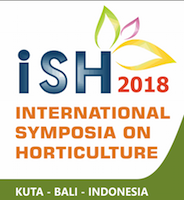 INTERNATIONAL SYMPOSIA ON HORTICULTURE (ISH 2018)
Date: November 27-30, 2018
Location: Kuta Bali (Indonesia)
Organizer: ICHORD
The Theme of International Symposia on Horticulture is Emerging Challenges and Opportunities in Horticulture Supporting Sustainable Development Goals which will provide a discussion forum for policy makers, scientists, practitioners, extension agents, students and other professionals to address the challenges of horticulture innovation.