Asia-Pacific Consortium on Agricultural Biotechnology and Bioresources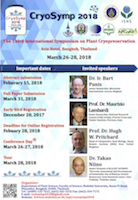 THIRD INTERNATIONAL SYMPOSIUM ON PLANT CRYOPRESERVATION (CRYOSYMP 2018)
Date: March 26-28, 2018
Location: Hotel Asia, Bangkok (Thailand)
Organizer: Department of Plant Science, Faculty of Science, Mahidol University, Bangkok
The general scope of the symposium is aimed at recent advances in all fundamental and applied plant cryopreservation, as well as to promote and support the global efforts of conserving plants and to create an interactive opportunity for scientists and professionals involved in research, education and industry on a global scale.
---
REGIONAL EXPERT CONSULTATION ON AGRICULTURAL BIOTECHNOLOGY – SCOPING PARTNERSHIP TO IMPROVE LIVELIHOODS OF FARMERS IN ASIA-PACIFIC
Date: May 29-31, 2018
Location: Bangkok (Thailand)
Organizer: APAARI
APAARI will be organizing a "Regional Expert Consultation on Agricultural Biotechnology – Scoping Partnership to Improve Livelihoods of Farmers in Asia-Pacific" at Bangkok on May 29-31, 2018. The purpose of the Expert Consultation is to provide a platform to explore initiatives and mechanisms of sustainable partnership and networking for capacity and institutional building, developing regulatory framework, communication strategies, enabling policies for application of biotechnologies. It will also provide an opportunity for scoping the new and innovative ways of making investments in agricultural biotechnology to improve the livelihoods of farmers in Asia-Pacific region. The expected output of the Expert Consultation is to develop the sustainable partnership between public and private sectors for knowledge sharing on experiences and best practices, and AR4D collaboration to harness the potential of agricultural biotechnology in the region. New institutional public-private partnerships can also be established for co-investment in agricultural biotechnology through innovative funding mechanisms.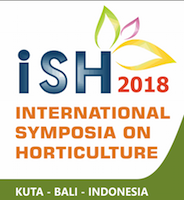 INTERNATIONAL SYMPOSIA ON HORTICULTURE (ISH 2018)
Date: November 27-30, 2018
Location: Kuta Bali (Indonesia)
Organizer: ICHORD
The Theme of International Symposia on Horticulture is Emerging Challenges and Opportunities in Horticulture Supporting Sustainable Development Goals which will provide a discussion forum for policy makers, scientists, practitioners, extension agents, students and other professionals to address the challenges of horticulture innovation.