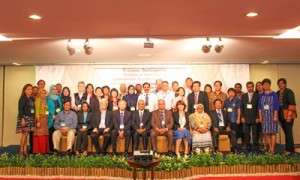 Participants of the workshop
Developing countries of the Asia-Pacific need to accelerate their efforts towards harnessing the benefits of biotechnology. Although detailed case studies on adoption, field performance, economic, and social impacts of Biotech crops being grown in China, India, Philippines, Pakistan, Myanmar, Bangladesh and Australia have been published, there is still logjam in approving more crops that would have high socio-economic and environmental impact.
The complications in the regulatory framework and lack of effective communication strategies are some of the factors contributing to the slow process of approval and large scale cultivation of new Biotech crops. A  number  of steps  need to be taken  to overcome negative perceptions about GM technology and to ensure that its benefits become available to farmers  and  other  stakeholders  while  ensuring   safety  of  health   and environment.
Hence the Asia-Pacific Association of Agricultural Research Institutions (APAARI) in collaboration with the International Service for the Acquisition of Agri-Biotech Applications (ISAAA) and the Malaysian Biotechnology Information Centre (MABIC) in support of the Council of Agriculture, R.O.C. jointly organized the Regional Workshop on Development of Communication Strategies for Adoption of Agri-Biotechnology in the Asia-Pacific Region on 28-29 September 2015 at Chiangrai, Thailand. Aims of this workshop are to examine the issues, understand the challenges, share experiences and recommend communication strategies that can assist in the faster adoption of GM technology in this region.