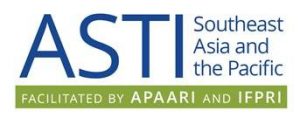 Agricultural Science and Technology Indicators (ASTI)
ASTI provides trusted open-source data on agricultural research systems across the developing world. Led by the International Food Policy Research Institute (IFPRI) within the portfolio of the CGIAR Research Programme on Policies, Institutions, and Markets (PIM), ASTI works with a large network of national collaborators to collect, compile, and disseminate information on financial, human, and institutional resources to key stakeholders. A new partnership project on ASTI, in collaboration with IFPRI, Australian Centre for International Agricultural Research (ACIAR) and APAARI is in the pipeline. It will facilitate national data collection for Asia-Pacific countries. Check out ASTI-APAARI Website HERE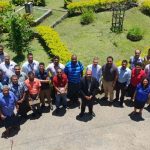 Seminar sets Phase for ASTI Survey in Fiji
On October 30, the Fiji Ministry of Agriculture (MOA) hosted a seminar on the Agricultural Science and Technology Indicators (ASTI) at the Koronivia Research station in Suva, Fiji.  The seminar was officiated by Dr Apaitia Macanawai and delivered by IFPRI ASTI Programme Manager Gert-Jan Stads and APAARI ASTI Coordinator Norah Omot.
With this event, ASTI has gone another milestone in Asia and the Pacific, by finally initiating ASTI activities in Fiji, and taking on board all of the 10 countries in the region who are supported for the ASTI activity by the Australian Centre for International Agricultural Research (ACIAR) for 2018-2019. READ MORE
ASTI Update from IFPRI
(Click on the News Title for more info)
ASTI-India Takes Shape
Senior Program Manager Gert-Jan Stads recently met with the National Academy of Agricultural Research Management (NAARM) and the Indian Department of Science and Technology (DST) to lay the foundations for the long-term institutionalization of ASTI in India. ASTI-India is now going to be fully integrated into DST's biennial National Science and Technology Management Information System (NSTMIS) survey, with NAARM taking care of the agricultural portion of the data and DST of the non-agricultural portion. This integration will improve ASTI's private-sector coverage, reduce duplication of effort, and make ASTI better embedded in national policy decision making processes. 
News from Enhancing Use of ASTI Data Project
In Tanzania, the Department of Research and Development in the Ministry of Agriculture (DRD), in collaboration with REPOA Policy Research for Development, organized a one-day working session in Dodoma. Key representatives from the Ministries of Agriculture, Finance, and Science and Technology; the Tanzania Livestock Research Institute (TALIRI), the Commission for Science Technology and Innovation (COSTECH), and the Platform for Policy Analysis and Coordination (PAPAC) gathered to discuss the status and trends of agricultural research investment, and how to respond to funding bottlenecks. The national team will prepare a guiding document and plan for the next activities and timeline, with DRD and REPOA working on policy messages.
In Ethiopia, preparations are underway to organize a workshop in Addis Ababa in June, with a wide range of stakeholders following a similar focus as the working meeting in Tanzania. In addition, the Ethiopian Institute for Agricultural Research (EIAR) has proposed a small meeting to bring high level policymakers from the Ministry of Agriculture and other agencies together to discuss the issue of financing for agricultural research.
In Nigeria, delayed data collection is hampering progress; however, discussions are underway for a policy dialogue to disseminate the new data and messages by the end of the year. ASTI-IFPRI is also working with our partners to initiate similar activities to enhance the use of ASTI evidence in Ghana and Kenya. IFPRI will produce a factsheet based on the new ASTI data, as well as an additional technical document to serve as an annex to the policy messages to be developed in all countries.
News from Southeast Asia and the Pacific
Gert-Jan Stads and Program Manager Norah Omot recently travelled to Vietnam where they met with representatives from the Vietnam Academy of Agricultural Sciences (VAAS), the Ministry of Agriculture and Rural Development (MARD), the Institute of Policy and Strategy for Agriculture and Rural Development (IPSARD), the Vietnam University of Agricultural Sciences, and the Australian Centre for International Agricultural Research (ACIAR). Vietnam has made considerable progress with data collection and is on track to be the first country in the region to finish its survey submissions!  Gert-Jan and Ravi Khetarpal—APAARI's Executive Secretary—traveled to Indonesia to set up a long-term ASTI partnership with the Indonesian Agency for Research and Development (IAARD) and the Indonesian Center for Agricultural and Socio Economic Policy Studies (ICASEPS) and to define their respective roles in data collection, analysis, and outreach. Preparations for a workshop that will bring together experts from Indonesia, the Philippines, and Vietnam are underway. During this workshop, a joint analytical research agenda around ASTI evidence with both national and regional relevance will be developed.
Launch of the ReSAKSS Data Challenge
Our partners in ReSAKSS are launching a competition for data users to showcase their creativity and analytical skills by using data and other resources on the ReSAKSS website to develop an innovative knowledge product that addresses a development challenge faced by Africa.  Participants can explore the wide range of resources available­—data, reports, reviews, publications and more—showcase their most ingenious innovation, add their voice to the debate, and win prizes.  If you know of an interested student or young professional, please spread the word. www.resakss.org/challenge
Farewell and Congratulations Sandra!
Join us in wishing ASTI team member Sandra Perez best of luck as she moves on to a new adventure! Sandra will remain at the IFPRI office and in the CGIAR system: her new role is Program Manager for the CGIAR Platform for Big Data in Agriculture, a CGIAR-wide initiative to increase the impact of agricultural development by embracing big data approaches to solve development problems faster, better, and at greater scale than before. (Marcia MacNeil will continue to follow up with focal points to update and validate qualitative survey responses.) Congratulations Sandra!