The  Thirteenth  General  Assembly  Meeting  (GAM)  of  the  Asia-Pacific  Association  of  Agricultural Research  Institutions  (APAARI) was  held  on  1 November,  2014  at  Rama Gardens Hotel,  Bangkok, Thailand.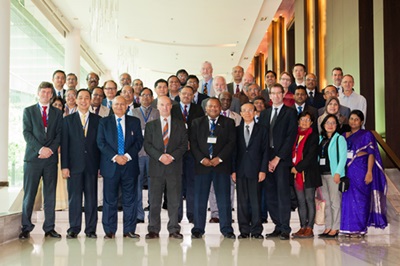 Dr. Simon Hearn, Chairman, APAARI welcomed all members and special invitees. He made special mention of the Hon.  Inia  B.  Seruiratu, Minister for Agriculture, Fiji, and  the Hon. Wen-deh  Chen, Deputy Minister for COA, Chinese Taipei for participating in the meeting despite having busy schedule.
Recalling the progress made by APAARI during the past 22 years under  the able guidance of Dr. Raj Paroda, Executive Secretary, Dr. Hearn mentioned that APAARI is now  recognized as a very vibrant organization  as  well  as  prominent  think  tank  in  addressing  various  emerging  issues  concerning agricultural research for development  in  the Asia-Pacific region. APAARI has facilitated wide ranging deliberations/expert  consultations /workshops/ training  programs  on  a  large  number  of  diverse topics/issues  focused on  achieving  food  security  and poverty  alleviation,  sustainability of smallholder farmers  and  research  resulting  in  international  public  goods.  While APAARI  is  a  self-sustaining organization,  the  support  extended by ACIAR, FAO, GFAR  and COA  through  funding of  its  regular programs and other activities is gratefully acknowledged.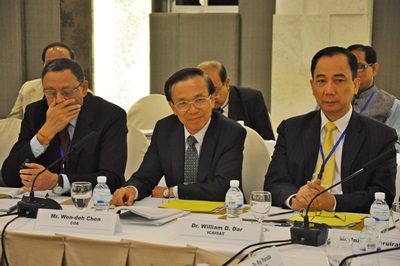 Dr. Hearn informed that he would be relinquishing his position as Chairman, APAARI in December 2014. So will Dr Raj Paroda. He thanked all the members for their support and expressed his gratitude to Dr. Raj Paroda for his long and extraordinary contributions in bringing APAARI to this high pedestal. He also expressed his appreciation for all APAARI secretariat staff in Bangkok and New Delhi for their dedicated service. He especially thanked DOA for the DOA-APAARI MoU, which is presently under active consideration. It would ensure legal identity to APAARI for its smooth functioning in Bangkok. Support extended by Dr H. Konuma, ADG, FAO R, and Bangkok to APAARI was also recognized.
Dr. Raj Paroda welcomed the participants and expressed his appreciation of all member organizations for their partnership in co-organizing various APAARI activities. He extended warm welcome to the special invitees who attended the GAM for the first time. In his Progress Report, Dr. Paroda specially highlighted the activities conducted since 2010. He stated that APAARI is trying to implement the Strategic Areas identified in its vision 2025 document such as: policy  advocacy,  need  assessment,  investment  in AR4D,  knowledge management,  role  of women  in agriculture,  youth  in  agriculture,  and  precision/conservation  agriculture.  Also,  activities  conducted under  the  two  major  programs  of  APAARI,  i)  the  Asia-Pacific  Consortium  on  Agricultural Biotechnology  (APCoAB),  and  (ii)  the  Asia-Pacific  Agricultural  Research  Information  System (APARIS) were briefly presented. Dr. Paroda also highlighted APAARI's efforts towards implementing GCARD Road Map, strengthening CGIAR-NARS partnership, and for involving diverse stakeholders in its activities.