Dr Rishi Tyagi, Coordinator, Asia-Pacific Consortium on Agricultural Biotechnology and Bioresources (APCoAB), Asia-Pacific Association of Agricultural Research Institutions (APAARI), participated in Asia-Pacific Economic Cooperation High Level Policy Dialogue on Agricultural Biotechnology (APEC HLPD AB),  22nd Agricultural Technical Cooperation Working Group(ATCWG) Meeting and ABAC Food Security Symposium, on August 6-9, 2018, held at Port Moresby, Papua New Guinea. During APEC HLPD AB, Dr Tyagi made a presentation on "Current Status of Agricultural Biotechnology in the APEC Economies". While discussing the status of agricultural biotechnology, he also emphasized that efforts should be made for regulatory alignment/cooperation amongst the APEC Economies which can ease out the process of adoption of the biotechnology and biotech derived products with minimum time period and cost of biosafety studies to enhance the food and nutritional security and improve the livelihoods of smallholder farmers. He proposed that APAARI, being a regional organization working in Asia-Pacific, can play an effective role to coordinate the above activities at APEC Economies level.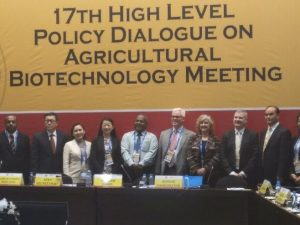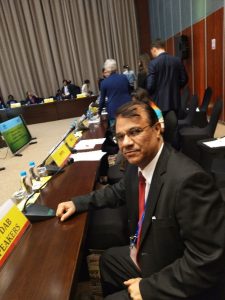 Chair (centre) with representatives of APEC                   Dr Rishi Tyagi made presentation in APEC HLPD AB
Economy in APEC HLPD AB
APCoAB Coordinator visits Philippines research organizations
Dr Rishi Tyagi, Coordinator, APCoAB, APAARI, visited Department of Science and Technology Philippine Council for Agriculture, Aquatic and Natural Resources (DOST-PCAARRD), National Institute of Molecular Biology (NIMBB) and Biotechnology, and Science and Education for Agriculture and Development (SEARCA) at Los Banos, Laguna, Philippines, on August 13, 2018. Dr Renaldo V Ebora, Executive Director, arranged a meeting with Council of Directors, PCAARRD, to discuss about enhancing the collaboration with APAARI for common mandated activities of PCAARRD and APAARI. A discussion was also held with the Director and scientists of NIMBB, how to use the expertise in biofertilizers and biopesticides, available at NIMBB for the benefit of smallholder farmers in Asia-Pacific region. To develop a collaboration with SEARCA Biotechnology Information Centre (BIC) to promote agricultural biotechnology at regional level, detailed discussion was held with the officials of SEARCA-BIC. Both the organizations agreed to work synergistically to promote the agricultural biotechnology for the benefits of smallholder farmers.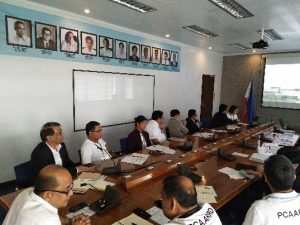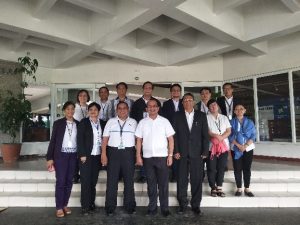 Dr Rishi Tyagi in a discussion with Council of                   Council of Directors of PCAARRD, along with Dr Rey Ebora, 
Directors of PCAARRD, Chaired by Dr Rey Ebora,           Executive Director and Dr Rishi Tyagi, Coordinator, APCoAB, APAARI 
Executive Director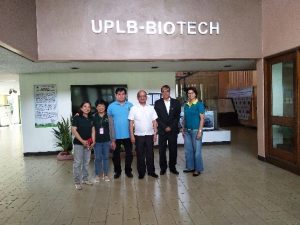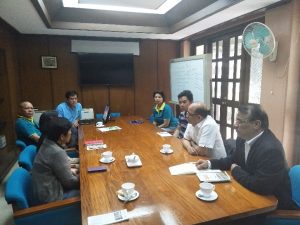 Dr Rishi Tyagi, Coordinator, APCoAB visited                    Dr Rishi Tyagi in a discussion with scientists of NIMBB, UPLB, 
NIMBB, UPLB, Philippines                                                     Philippines,  to collaborate in areas of biofertilizer and
                                                                                                       biopesticides