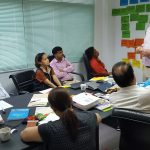 A one-day monitoring, evaluation, reporting and learning workshop has been organized by the Asia Pacific Association of Agricultural Research Institutions-APAARI to help staff track their activities as well as provide the institution with a strategy to better align activities to its vision of strengthening research and innovations for sustainable agricultural development in the Asia Pacific.  To kick start the exercise this Thursday August 23, APAARI Executive Secretary Dr. Ravi Khetarpal welcomed Edward Rowley (M&E Consultant from Strategy, Evaluation and Engagement for Development Pty Ltd (SEE4D), Australia) whose task it was to take the staff through the monitoring and evaluation corridors. He equally underscored the importance of the workshop both to the institution and staff.
Being a seasoned monitoring, evaluation and engagement specialist, Edward Rowley walked the staff through APAARI thematic areas and activities. Through hands-on exercises the participants identified the different activities, beneficiaries and key partners in various programmes. In this exercise the staff were able to identify quantitative and qualitative indicators that are signposts on the pathway to strengthening research and innovations for sustainable agricultural development in Asia Pacific.
At the end of the workshop, APAARI staff were very satisfied and confident they can now better align their activities to impact pathways in ensuring knowledge management, partnerships and networking, capacity development and advocacy activities are aligned to the vision of the institution. Hither to the workshop proper, Edward Rowley held a series of one-to-one discussion with the staff to deepen his understanding of the the context, membership, scale of operations, resources and activities of the institution. According to him, the pre-workshop exercise was instrumental in understanding and conceiving workshop activities and the strategy that is realistic, futuristic and in perfect harmony with APAARI activities.
Assessing APAARI activities, Edward Rowley, said there are many opportunities and benefits in the work that the institution though there are lots of challenges in attaining its vision and mission. The outcome of this exercise will be concretized in a feedback tool to track progress and ensure that activities are streamlined to vision so that outcomes are achieved at the end of the programme cycle.