A high level delegation from The International Center from Tropical Agriculture (CIAT, Colombia) lead by Dr. Ruben Echeverria, Director General, accompanied with Dr. Dindo Campilan, Regional Director for Asia and his colleagues, Dr. Godefroy Grosjean; Dr. Pablo Imbach and Dr. Stef de Haan visited APAARI on 12th July to discuss on possible partnerships.
Dr. Ravi Khetarpal, Executive Secretary, made a short overview presentation on APAARI and its upcoming activities.  He highlighted the strength and major programs on Knowledge Management, APCoAB and ASTI, streaming from the APAARI Strategic Plan 2017-2023 grounded on its Vision 2030. Dr. Dindo Campilan highlighted CIAT's profile, countries of operation in the region and his colleagues gave a brief overview on some of their ongoing activities on strategic areas of Climate Smart Agriculture, Big Data, Natural Resource Management and Sustainable Food Systems.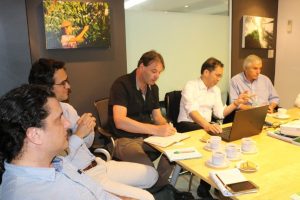 CIAT delegates visit to APAARI
Scaling up of innovations and knowledge sharing were some of the key components identified for collaboration. The DG CIAT, Dr Ruben Echeverria emphasized on the need of the two organizations to come closer to reach to the stakeholders in the interest of agricultural growth in the region.  He was convinced that CIAT would have better outreach in the region by partnering with APAARI and he announced CIAT's interest to join APAARI as an Associate Member with immediate effect. The meeting concluded with a positive and vibrant outlook where both organizations pledged to take a further leap in vitalizing Agri-food research and innovation in the Asia-Pacific region.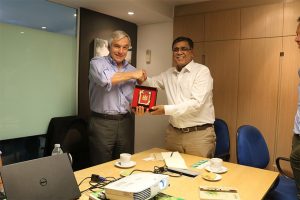 Director General, CIAT and Executive Secretary APAARI agrees to work together