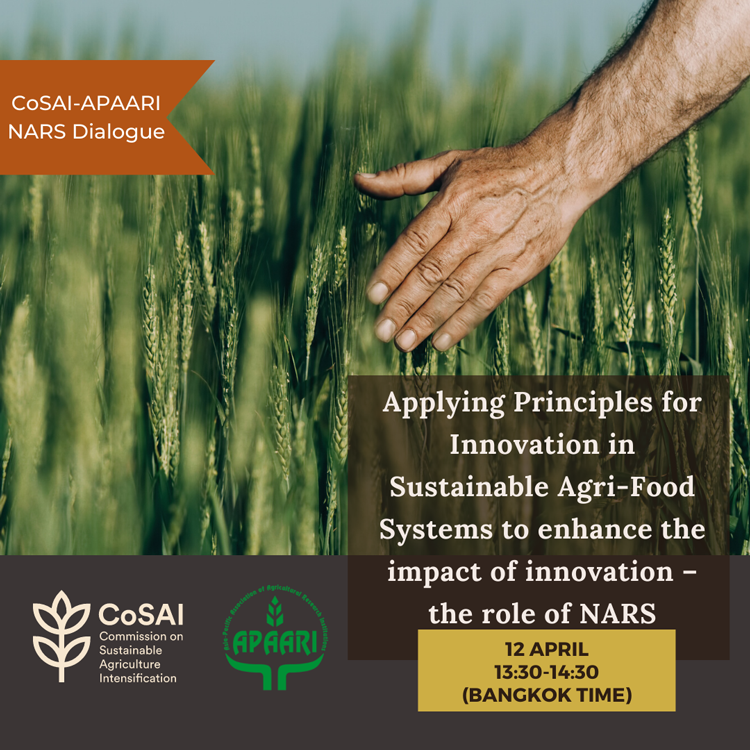 Background
To manage the rising global demands and mitigate climate change risks through sustainable agriculture, we need intensified and sustained investments in innovation for sustainable agri-food systems. Reorienting existing funding for innovation and sustainable agri-food systems (SAS) is critical to meeting the Sustainable Development Goals and Paris Climate Agreement.
By establishing a clear set of principles for innovations and innovation processes that promote SAS, together with guidance and metrics supporting those principles, we can plan, guide, and monitor progress against SAS objectives. To this effect, CoSAI has developed and agreed on a set of principles and metrics to guide and track innovation.
The Dialogue
This dialogue is in continuation to the three dialogues conducted in collaboration between CoSAI and APAARI in 2021. The previous discussions covered some evidence that will be briefly rehashed in this dialogue. This meeting will set the scene using the relevant evidence and then go deeper to highlight how NARS actors should use the Principles, why they are important, why the Principles are in the form that they are, and how they can be used in innovation projects by NARS actors.
The hour-long dialogue will include the following elements:
Presentation by the CoSAI Task Force to set the stage

Panel discussion involving CoSAI, regional fora, and TAP, including an example from piloting activity.

Presentation by the CoSAI Task Force on the 'demonstration' of the Principles and how they can be used in innovation projects
Date: 12th April 2022 (Tuesday)
Time: 13:30-14:30 (Bangkok Time)
Registration Link: Click here
(On completing registration, you will receive a joining link unique to you. To ensure that the meeting is secure, please do not share your joining link with anyone.)
Who should attend?
National agricultural research systems (NARS) actors within the agri-food systems of the Asia-Pacific region.
Objectives
The overall objective is to encourage the uptake of the Principles by NARS actors to lead to an improved investment landscape for sustainable agrifood systems by national and international donors.
Expected Outcomes
Improved understanding of the rationale behind the Principles and how to apply them to increase sustainable agri-food system objectives in innovation project management

Buy-in from the leaders of NARS to include the Principles in their innovation programmes and strategies.

Wider recognition of the Principles as a tool for sustainable agri-food innovation projects by NARS actors across the Asia Pacific.

Support from NARS actors behind the uptake of the Principles by FAO (after March 2022).