ON the margin of the Executive Committee Meeting of 2018 and the Regional Expert Consultation on Agricultural Biotechnology held in Bangkok, Thailand 28-31 May 2018, the Asia Pacific Association for Agricultural Research Institutes (APAARI) and the Forum for Agricultural Research in Africa (FARA) have signed a Partnership Agreement. The signing ceremony was solemnized before the Chairman APAARI (Dr Yusuf Zafar, Director General, Pakistan Agricultural Research Council) and the high-level officials from the Ministries and the National Agricultural Research Systems of various countries of Asia and Pacific. Also present were representatives from USAID, ICRISAT, IRRI, International Centre for Genetic Engineering and Biotechnology and others.
According to the principles of the two regional fora, the signing of the agreement by the principals of both secretariats comes on the heels of implementation of South-South framework that opens the two regions to mutually beneficial growth opportunities. It is also noteworthy that the Partnership Agreement will allow growth options between the two regions that hitherto remain largely unexploited. The agreement will also consolidate the two geopolitical regions as the largest global alliance of the most food and nutrition-challenged vulnerable people that are now repositioned to explore new prospects that are expected to be a game-changing collaborative framework across the two regional fora.
An initial discussion between FARA and APAARI identified the need for partnership to address issues of mutual interest confronting the agricultural sector in the two continents. This discussion has led to the drafting of a Partnership Agreement that sets the scope of the operationalization frame to work together and foster synergistic actions and partnerships. The partnership will inter alia focus on i) Exchange of knowledge and expertise on agricultural research, ii) innovation and development, iii) joint scoping for regional and inter-regional projects on research and innovation, capacity development and policy advocacy with a special focus on women, youth and agribusiness.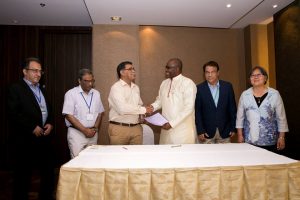 It is hoped by the two principals – Dr Yemi Akinbamijo and Dr Ravi Khetarpal of FARA and APAARI respectively, that the signing of the Agreement and its eventual operalization would expedite achieving the Sustainable Development Goals in two important continents of the world which have much to share and synergize.