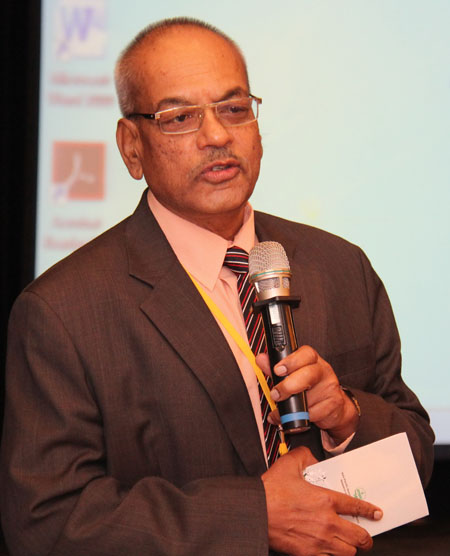 At the global level, APAARI's key partners are the Food and Agriculture Organization of the United Nations (FAO), the Global Forum for Agricultural Research (GFAR), and Global Open Data for Agriculture and Nutrition (GODAN).
With FAO, APAARI collaborates on the promotion of e-Agriculture– a global community of practice that facilitates dialogue, information exchange and sharing of ideas related to the use of information and communication technologies (ICTs) for sustainable agriculture and rural development.Another knowledge partnership between APAARI and FAO is focused on the Tropical Agriculture Platform (TAP). APAARI has been promoting the key component of the TAP Action Plan –the Common Framework on Capacity Development (CD) for Agricultural Innovation Systems (AIS) – designed to promote improved coherence and greater impact of capacity development on agricultural innovation systems.
APAARI's partnership with the Global Forum on Agricultural Research (GFAR) particularly focuses on contributing to Outcome 3 and 6 of the Mid-Term Plan of GFAR. In terms of Outcome 3: "Transformative AR4D investments stimulated to provide tangible opportunities for the world's poor" APAARI is making advocacy efforts to enhance quality investments in agricultural research and innovations. An example is the co-organization of a High Level Policy Dialogue (HLPD) on Investment in Agricultural Research for Sustainable Development in the Asia-Pacific region that took place in Thailand from 8-9 December 2015. The focus of this collective action was on the directions, needs and mechanisms to enhance and improve investments in the Asia-Pacific region in terms of financial resources, infrastructure, capacity development, partnerships and policy support. Such support is critically needed to contribute to improved agricultural research and innovation (including extension and education) in the region and achieving the Sustainable Development Goals (SDGs). In line with the Outcome 6 of its MTP – Accountability, transformational change and development impacts in AR4D systems increased through more effective governance and greater and more transparent stakeholder involvement – GFAR significantly contributed in the development of APAARI Vision 2030 and Strategic Plan 2017-22, particularly to improve APAARI governance, development and reform.
APAARI also actively contributed to the 3rd Global Conference on Agricultural Research for Development (GCARD3) – that took place in Johannesburg, South Africa from 5-8 April 2016. GCARD3 is a global consultative process that provided a common platform for the wide range of actors involved in generating, accessing and using knowledge on agricultural and agri-food systems. It provided opportunities to learn about and explore ways to align regional and national priorities and activities with CGIAR Research Programs (CRPs); strengthen the collaborative partnerships elaborated at GCARD2, and explore new partnership modalities; catalyze discussions on essential changes in the focus, function and capability of national innovation systems, as expressed in the GCARD Road Map; and help agri-food research and innovation to realize its full potential in contributing to achieving the Sustainable Development Goals (SDGs).APAARI actively participated in the GCARD3 event by bringing over 25 year experience in strengthening agriculture and agri-food research and innovation systems from regional to the global level. Particularly, it offered Asia-Pacific perspectives on investment priorities and mechanisms in agricultural research and innovations for impact at scale, and the SDGs in the context of agricultural research. 
The Global Confederation of Higher Education Associations for Agricultural and Life Sciences (GCHERA) is a global network of national and regional Higher Education Associations. Its mission is to encourage mutual understanding and global co-operation among higher education associations and their constituent member universities; provide leadership in education, research, innovation and outreach in agricultural and life sciences; and be a catalyst for the sharing and adoption of best practices across its membership. APAARI works with GCHERA in the area of transformation of agricultural education in Asia-Pacific.