With the ratification of Republic Act (RA) No. 10055 or the Philippine Technology Transfer Act of 2009, the Philippine Council for Agriculture, Aquatic and Natural Resources Research and Development (PCAARRD) has intensified its efforts on technology transfer by establishing the DOST-PCAARRD Innovation and Technology Center (DPITC). The Center is designed to deliver quality services on technology commercialization and intellectual property (IP) management. From 2017-2018, the Center's initiatives have reached 72 projects mainly focused on IP management, business development, capacity building and policy development worth around Php345 million (USD 6.7 mil). About Php117 million (USD 2.3 mil) was generated as counterpart funds provided by research and development (R&D) partners, including 39 state universities and colleges/R&D institutes.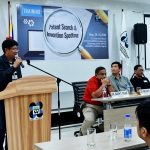 Participants at the Training Workshop on Patent Search and Invention Spotting. Source: PCAARRD
Introduction and challenges
The Philippines is facing a big challenge in managing its R&D outputs, as very few government-funded innovations have been commercialized through the years. According to the latest report on the International IP Index (US Chamber of Commerce Global Innovation Policy Center/BusinessWorld 2018), the country only scored 1.0 out of the perfect score of 3.0 under the commercialization of IP assets category. PCAARRD recognizes that IP management is the next game changer in the country's arena of agriculture, aquatic and natural resources R&D and technology transfer. In addition to protecting inventions, IP can also provide market protection to innovators, generate income from royalties, make products available at lower cost, create jobs along the commercialization process, and generate taxes from companies and employees. PCAARRD took huge strides towards the vision of having a competitive innovation ecosystem in the agriculture, aquatic and natural resources sector through the establishment of the DOST-PCAARRD Innovation and Technology Center (DPITC).
Initiatives and interventions
The life cycle of a technology does not end once it is invented. Rather, it will be the start of its journey towards innovation. Bridging inventions to innovations requires new sets of pre- and commercialization initiatives and collaboration among actors of the innovation ecosystem to move technologies from laboratories to the market.
By virtue of RA10055, known as the Philippine Technology Transfer Act of 2009, PCAARRD received an added mandate of technology transfer and commercialization. Section 7 of the Act stipulates that a government funding agency like PCAARRD shall, among other responsibilities: monitor efforts and effectiveness of the state universities and colleges/R&D institutes in securing IP protection and pursuing IP commercialization, as well as provide alternative solutions and assistance in case of shortfall in their performance in protecting, utilizing and commercializing the IP. In response, PCAARRD established the DPITC last March 2016.
The Center aims to: (i) facilitate public-private access to agriculture, aquatic and natural resources technologies to improve the innovation ecosystem in the three sectors; (ii) provide a venue for convergence of the sectors' stakeholders from academic, public and private sectors, non-government organizations (NGOs) and international partners; (iii) provide appropriate incentives for technology commercialization to benefit stakeholders in an adequate and timely manner; (iv) manage the sectors' technologies and IPs; (v) provide capability building on technology transfer to R&D partners; (vi) strengthen existing and forge new public-private partnerships for R&D results utilization; and (vii) support the National Agriculture, Aquatic and Resources R&D Network (NAARRDN) partners in developing their respective technology commercialization programmes.
The Center is organized around four major science and technology service areas or hubs: (i) Technology Business and Partnership Hub provides networking, strategic partnership and technology business services, such as IP management, valuation, market matching and licensing, among others; (ii) Knowledge Management Hub provides an internet café and ICT-based library services that offer important databases of R&D and technology transfer information; (iii) Science and Technology Promotion Hub showcases technologies and innovations generated by R&D projects in the agriculture, aquatic and natural resources sectors; and (iv) Innovation Services Hub provides capacity building initiatives on R&D, IP management and commercialization.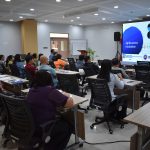 Mentorship on the Management of Agri-Aqua Technology Business Incubators. Source: PCAARRD
Main outputs and outcomes
Ten years before the Center establishment, PCAARRD assisted 16 state universities and colleges/R&D institutes on IP protection. This assistance has resulted in eleven trademarks filed and registered; 23 utility models filed and approved; and 37 patents filed, with only seven patents granted while the rest are still being evaluated by the Intellectual Property Office of the Philippines.
Currently, PCAARRD poured more than 20 per cent of its annual budget to various programmes and projects to bring their research results to commercialization. It generated technologies and best practices in science and technology to benefit people, communities and industries from their application. The Center's initiatives on pre- and commercialization alone include 72 projects with a total budget of Php345 million (USD 389 mil). These projects include, for example:
assessments of the patentability of technologies to be applied for IP protection

patent landscape preparation to identify the level of patenting activities of a specific commodity or technology

IP protection of selected PCAARRD-funded technologies

'Freedom-to-Operate' review to ensure the use and/or commercialization of a certain technology without the risk of infringing any related IP registrations and applications

machine testing and certification

market study for a thorough understanding of the market to identify the drivers and inhibitors of demand

business plan preparation to identify marketing, financial and operational strategies for actual agri-aqua businesses to prosper

technology/IP valuation

market-matching, and

Fairness Opinion Assessment to evaluate the fairness to the Philippine government in a particular technology transfer arrangement for a government-funded technology or invention.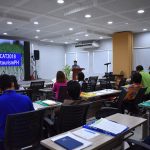 Science for the Convergence of Agriculture and Tourism (SciCAT) Training Workshop. Source: PCAARRD
The Center supported 26 'Intellectual Property and Technology Business Management Offices' and 14 'Agri-Aqua Technology Business Incubators' across the country. In 2018, PCAARRD launched its latest technology commercialization platform – Science for the Convergence of Agriculture and Tourism (SciCAT) – to transform Magsasaka Siyentista Farms (farms of farmers who have been successful in their use of science and technology-based indigenous technologies) into SciCAT farm enterprises that will serve as their communities' main tourist farm attraction leading to the creation of employment and entrepreneurship opportunities.
Development of soft skills
Since the establishment of the Center, 27 capacity development activities were conducted to build soft skills of PCAARRD stakeholders in entrepreneurship, business modelling, technology patentability assessments ('prior art searches'), disclosure, farm tourism, management of Agri-Aqua Technology Business Incubators, technology valuation, IP management, and technology commercialization. To ensure that institutional policies are in conformance to RA10055, four IP policy and technology transfer protocol reviews were conducted involving 26 state universities and colleges/R&D institutes.
PCAARRD has also successfully integrated the Center's work into higher education. For the first time it conducted a six-module IP Master Class for two batches of state universities and colleges/R&D institutes. It collaborated with the Association of Patent Agent Qualifying Exam Professionals Inc. that developed the training curriculum and provided experts to serve as resource persons and training facilitators for the whole duration of the Master Class. The IP Master Class demonstrated the whole patent application flow through hands-on prior art searches (patentability assessments), claim drafting, filing of IP applications, substantive examination request, response to 'Formality Examination Reports', as well as administration of a mock exam for patent agent aspirants.
Impact
Through these projects and activities, to date the Center has accomplished 75 prior art search reports; nine patent landscape reports; 46 Freedom-to-Operate reviews; 16 technology valuation reports; 20 market studies/business plans; 56 technologies assessed, and developed capacity of almost a thousand researchers and technology transfer officers, including 55 graduates of the IP Master Class. These graduates have already filed 156 IP (patent, utility model, trademark, industrial design) applications! PCAARRD also established a Freedom-to-Operate (FTO) unit at the DOST-Technology Application and Promotion Institute. Now, Freedom-to-Operate reviews and valuation reports are basic requirements before one can obtain a fairness opinion report from the DOST Secretary prior to commercialization. The Center also takes pride in having facilitated the signing of 14 licensing agreements with private partners. The six Agri-Aqua Technology Business Incubators established in 2017 already boast supporting 95 incubatees, which have generated 185 jobs and an aggregate gross income of Php9.8 million (USD 11 mil) in 2018.
Lessons learned
Despite the significant achievement through the Center, much work is still needed to protect and commercialize government-funded innovations in the agriculture, aquatic and natural resources sectors. Technology commercialization is quite new in these areas, and the partner state universities and colleges/R&D institutes may not be ready. They are experts when it comes to R&D in their own sectors, but they are novices and reluctant participants when it comes to the business side of technologies. The Center's platform caters to the development of IP and technology business management operations of these partners.
Partnerships and collaboration will remain the critical strategy for PCAARRD to develop and transfer innovative technologies, expand its network, and generate resources. The prospects of making IP into a usable and profitable asset for businesses (commercializing IPs) are bright as the government is aligning major programmes and projects to the industry needs. PCAARRD recognizes the importance of the industry, academia and R&D to move along the same path to accelerate technology commercialization. With all relevant policies, programmes and collaboration in place, PCAARRD hopes that commercialization of agri-aqua innovations in the Philippines will have an upward trend in the coming years.
Contact: Dr. Reynaldo V. Ebora, Acting Executive Director, Philippine Council for Agriculture, Aquatic and Natural Resources Research and Development (PCAARRD), Los Baños, Laguna, Philippines (pcaarrd@pcaarrd.dost.gov.ph, r.ebora@pcaarrd.dost.gov.ph); Mr. Noel A. Catibog, Officer-in-Charge/Supervising Science Research Specialist, Technology Transfer and Promotion Division, DOST-PCAARRD (n.catibog@pcaarrd.dost.gov.ph, noelcatibog@yahoo.com)
Read more:
Redefining technology transfer in the Philippine agri-aqua sector http://www.pcaarrd.dost.gov.ph/home/portal/index.php/quick-information-dispatch/2897-redefining-technology-transfer-in-the-philippine-agri-aqua-sector
DOST-PCAARRD's Intellectual Property Master Class produces its first graduates http://www.pcaarrd.dost.gov.ph/home/portal/index.php/quick-information-dispatch/3279-dost-pcaarrd-s-intellectual-property-master-class-produces-its-first-graduates