A network of women farmers' leaders is set to drive widespread adoption of innovations and technologies across India. The International Rice Research Institute (IRRI), together with the Department of Biotechnology of India's Ministry of Science and Technology, are training women farmer leaders on advanced rice production and soft skills to help boost food security in India.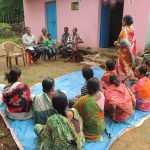 Group discussion on 'Crop Cafeteria' establishment with local NGO partner, Loksebak. Source: Pradeep Kumar Sethi, IRRI
Introduction
In June to July 2018, the first phase of the programme – an eight-day basic rice production course – was held at Bhubaneswar, Odisha, India, to expose women participants to rice technologies and basic best management practices, and build their capacities in innovation, solutions and leading technologies to boost their rice production efficiency at the grassroots level. There were 37 women farmers from Assam, West Bengal, Karnataka, Uttarakhand, Punjab, Andhra Pradesh, and Odisha. A week-long advanced course on rice production was implemented in September 2018 by IRRI's Education Unit for women farmers as the second phase of the training. It gathered eight women farmer leaders from the above-mentioned states' self-help groups, women organizations, and producer companies.
Challenge
It is impossible to end poverty, hunger or malnutrition without reaching women. There is a pressing need to bridge the gaps in access to rice science and knowledge that women are facing. Women account for 43 per cent of the agricultural labour force in developing countries and slightly more than 30 per cent in South Asia and India. However, their access to productive resources (land and livestock), inputs (improved seeds and fertilizers), and services (credit, extension) for agriculture is limited. It is in the same context that women carry out many responsibilities within households, in addition to agricultural labour. For example, they provide care for children and the elderly, fetch water and fuel, and manage domestic chores (FAO 2011). The disparity in access to the above-mentioned resources may result in women's lower agricultural productivity and less control of household income and decisions, as well as barriers to adoption of new technologies or practices. However, with access to improved technologies, knowledge and information to bridge the gender gap, women farmers can change their lives and those of their family and community members.
Initiatives responding to the challenge 
Women farmers have an enormous potential to make significant contributions to improve agricultural productivity and reduce hunger and malnutrition. IRRI is working closely with women's self-help groups, government institutions, and civil society organizations to develop and deliver tailored solutions for building their capacity and skills, and enable them to develop such capacities and skills in their own farmer groups. Through this collaborative network, IRRI engages these self-help groups by providing the necessary knowledge, skills, and technologies; opportunities for meaningful participation in decision-making; and a platform for learning and networking with various sectors throughout the agricultural food system.
The training supported by IRRI aims to design and conduct a need-based programme that would expose women farmers to the leading scientific technologies to build their capacity at the grassroots level and provide solutions and support to agriculture problems. The last year's training course was a combination of technical and functional capacity development, including field and hands-on experience. It was built around all practical aspects of rice production and post-production. Furthermore, it developed women's knowledge and skills in entrepreneurship, farm management and extension, as well as their ability to work with other farmers and rice industry organizations.
In particular, the training programme developed women's technical and functional capacities in the following areas:
Technology – mechanization in rice and advances in rice production technology

Knowledge access and decision support – information and communication technology (ICT) tools

Sustainable businesses for women entrepreneurs in rice farming – nursery businesses

Service provision models for machines 

Management and leadership – rice and seed production planning and financial management, and models for management and leadership
Main outputs and outcomes
 "The training programme, which we have developed is designed for women farmers all over India", said Poornima Ravi Shankar, Training Coordinator. "It is being rolled out in different phases, which exposes the participants to both locally-appropriate solutions and best management practices from different parts of the world", she added.
"Women were able to interact and discuss with IRRI's global experts on mechanization, agronomic management, and communication technologies for knowledge access and decision support, and sustainable women entrepreneurship in rice farming such as nursery raising", continues Dr. Shankar.
According to participant Jamuna Dutta Baruah, "Through this programme we were enriched with advanced knowledge of farming systems, mechanization, business development, and leadership skills."
Women-centric communication materials are also being developed and shared during the training activities.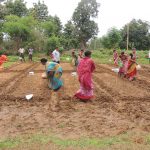 Preparation of a nursery bed. Source: Pradeep Kumar Sethi, IRRI
Evidence-based learning
To further build the capacity of women's self-help groups, IRRI also held separate training activities for the members on how to establish a 'crop cafeteria'. Crop cafeterias (CCs) are hubs that facilitate the process of varietal selection by engaging different stakeholders in evaluating the available, as well as testing candidate rice varieties. These cafeterias could also help the self-help groups transform into business enterprises.
During the 2017 and 2018 kharif seasons, a 17-member women's self-group called 'Maa Thakurani' from Kalahandi district, Odisha, India, has initiated a crop cafeteria as a new approach of evidence-based learning to strengthen the local rice variety selection process.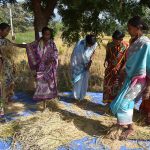 Collective efforts made by a self-help group. Source: Pradeep Kumar Sethi, IRRI
The members transplanted a collection of 19 and 16 old varieties, and new stress-tolerant rice varieties, respectively, on a large tract of land for observation by local farmers. They maintained every replication plot and followed similar management practices for every variety. When the crop stand reached maturity, the group invited various key stakeholders from the seed value chain to participate in a detailed process of evaluation and scoring for different traits of each variety.
"The cafeteria has given us a platform for learning about how to observe, make comparisons, witness the results, and build choices for making the right decisions," said Mrs. Hemlata Sabar, the Secretary of the Maa Thakurani group.
Through their participation in these activities, women can also interact with extension workers, seed sector stakeholders, and researchers to gain knowledge in various aspects of modern rice farming, as well as develop their self-confidence in dealing with these different actors.
Pathways to impact
IRRI creates and promotes opportunities for women farmers to build their capacity and confidence by accessing knowledge, technology and resources. As such, it encourages them to take on a leadership role, participate in decision making, develop market linkages and networks, and gradually transform them to become women entrepreneurs in the agriculture sector, thereby strengthening agricultural innovation systems.
While long-term impact is still being monitored, evaluated and assessed by the Department of Biotechnology of the Government of India, it is expected that the participants of this training will train other women farmers in the latest technological innovations they learned from IRRI. Currently, a more long-term capacity development programme is in the pipeline, which will be offered to women farmer leaders to catalyze agricultural transformation and improve livelihoods through innovations in cropping system technologies.
Author and contact: Deepti Saksena, Communication Specialist, International Rice Research Institute (d.saksena@irri.org); Jerome Barradas, Communications Specialist, International Rice Research Institute (j.barradas@irri.org)
Read more:
http://ricetoday.irri.org/womens-groups-lead-agricultural-innovations-in-odisha/
http://ricetoday.irri.org/women-farmers-crop-cafeteria-serves-practical-rice-science/