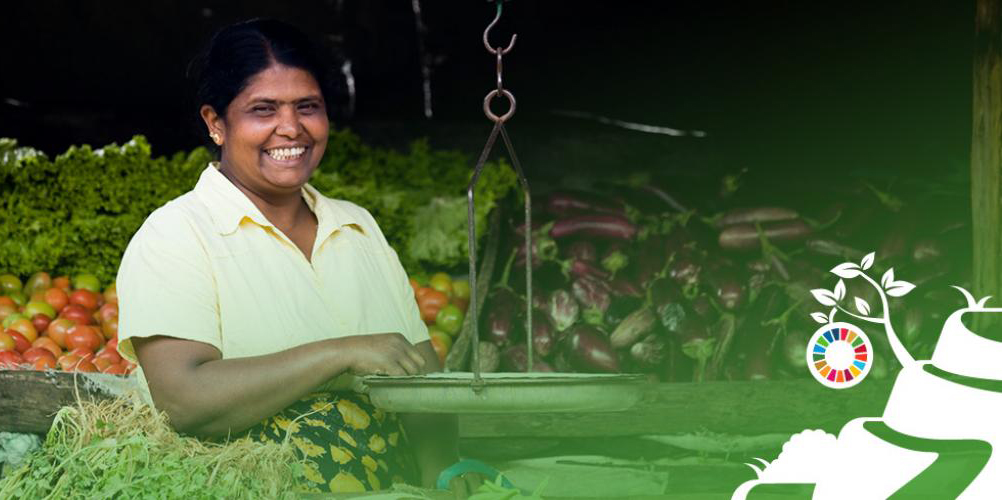 About the UN Food Systems Summit 2021
In 2021, UN Secretary-General António Guterres will convene a Food Systems Summit as part of the Decade of Action to achieve the Sustainable Development Goals (SDGs) by 2030, each of which relies to some degree on healthier, more sustainable and equitable food systems. The Summit will awaken the world to the fact that we all must work together to transform the way the world produces, consumes and thinks about food. Guided by five Action Tracks, the Summit will draw on the expertise of actors from across the world's food systems, and offer stakeholders from a wide range of backgrounds a space to share and learn, with a view to fostering new actions and partnerships and amplifying existing initiatives. Key players from the worlds of science, business, policy, healthcare and academia, as well as farmers, indigenous people, youth organizations, consumer groups, environmental activists, and other stakeholders, will come together to bring about tangible, positive changes to the world's food systems.
Food Systems Summit Dialogues
Food Systems Summit Dialogues are critical to the Food Systems Summit process. The Dialogues offer a purposeful and organized forum for stakeholders to come together to share their roles in food systems, consider their impacts on others and find new ways to come together in support of the Sustainable Development Goals. The outcomes of the Summit Dialogues will inform the Summit process and help to guide individual and collective action towards a future of food that is sustainable, equitable and secure.
Independent Dialogue by Bharat Krishak Samaj and Rythu Sadhikara Samstha (RySS)
A broad understanding is emerging that our food systems are a key factor in the environmental emergency: they contribute massively to global heating, biodiversity loss, land-use change, and freshwater consumption. They are also profoundly inequitable, with the numbers of hungry and malnourished only increasing due to the pandemic. Yet, they also affect every aspect of human existence in every corner of the globe. This makes it vital to transform the way the world produces, consumes, and thinks about food.
However, the voices of many crucial food system actors, such as farmers, have so far been underrepresented in the academic and policy discourse around food systems. The UN Food Systems Summit is attempting to change this by reaching out to as many diverse stakeholders in almost all regions of the world. It has oriented itself as an inclusive, 'people's summit' and has committed to engage with the honest and often difficult discussions required to build solutions together.
In pursuit of this goal, Bharat Krishak Samaj and RySS plan to co-convene two Independent Dialogues, with farmers and farmer organisations in the Global South. One of these dialogues would be held with farmers' organisations in Africa and Asia, on 5 February, 2021. The key takeaways from these discussions will feed into the action tracks and the UNFSS process. Please find the agenda of the dialogue below:
Agenda:
Date: 5 February 2021
Time: 14:00 – 16:00 IST
Convenors: Bharat Krishak Samaj and Rythu Sadhikara Samstha (RySS)
Format: Online (Zoom platform)
Dialogue Focus/Title: Building synergies between seemingly competing interests of production, consumption, livelihoods and the ecosystem
14.00 – 14.10: Welcome Address and Introduction to the Dialogue
14.10 – 14.20: Keynote Address by Guest Speaker
14.20 – 14.30: Presentation of Dialogue Agenda and Introduction of Discussions Topics and Facilitators
14.30 – 15.30: Discussion Session in 4-5 Smaller Groups (through Breakout Rooms)
15.30 – 15.55: Reporting of Discussion Outcomes from Breakout Rooms (5 minutes each)
15.55 – 16.00: Summary and Recommendations from the Dialogue
The insights and recommendations from the Dialogue will be shared with the UNFSS team through their Official Feedback mechanism and inform the outcomes of the Summit process.
To learn more about the summit, download the Concept note