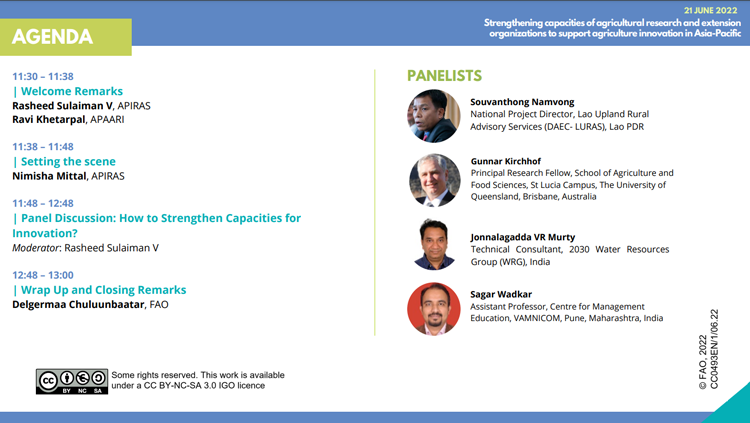 Webinar: Strengthening capacities of agricultural research and extension organizations to support agriculture innovation in Asia-Pacific
Date: 21 June 2022
Time: 11:30-13:00 (Bangkok Time)
The Asia-Pacific Islands Rural Advisory Services Network (APIRAS) and the Asia-Pacific Association of Agricultural Research Institutions (APAARI) in partnership with the Research and Extension Unit of the Food and Agriculture Organization (FAO) of the United Nations are committed to strengthening agriculture innovation systems (AIS) in the Asia-Pacific region for agri-food systems transformation.
In line with this commitment, you are cordially invited to this upcoming webinar, where the presenters will share their recent work in the region, highlighting new survey results on the challenges and opportunities facing national research and extension organizations in strengthening AIS and good practices from regional initiatives that have successfully addressed some of these challenges.
Panelists from research and extension organizations in the Asia-Pacific will discuss the results, linking them with their practical experiences, thus demonstrating potential solutions to key issues facing agriculture innovation in the region.
For more details, click here