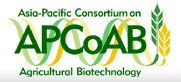 APCoAB, a programme of Asia Pacific Association of Agricultural Research Institutions (APAARI), is an apolitical forum with a goal to enhance the benefits of biotechnologies for sustainable agricultural development in the Asia-Pacific region, through greater stakeholder partnerships, improved policy environment, enhanced capacity building and greater public awareness.
---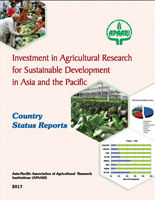 A structured outline/questionnaire was sent to 25 countries of the region, of which 22 countries provided very useful and relevant information in the form of country status reports. This compilation includes systematically organized and edited country status reports and a synthesis paper based on in-depth analysis of the information contained in these country reports.
The synthesis paper was presented in the High Level Policy Dialogue. Based on GDP per capita at current prices in 2014, five countries were classified as high income, seven as medium income and 10 as low income countries. Responses revealed that major policies that have implications for agricultural research in these countries include food security/food supply, productivity improvement, sustainable natural resources management, sustainable development or sustainability, competitiveness and market development, rural development, rural income generation and livelihood. The implications of theses vary across income groups and countries. There are also significant differences between countries and income groups in terms of specific strategies adopted.