Asia-Pacific Consortium on Agricultural Biotechnology and Bioresources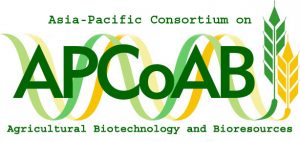 Address:
La Trobe University
5 Ring Road
Bundoora, VIC 3086
Australia

Email:
agribio@latrobe.edu.au

Research:
Molecular interactions at the plant-fungal interface, nutrition and reproduction, parasitology, plant development and biotechnology, plant Pathology and Mycology, plant-soil science, plant-soil systems, subsoil manuring.

Website:
https://www.agribio.com.au

Address:
Agricultural Production Systems sIMulator
203 Tor Street
Toowoomba, Qld 4350
Australia

Email:
apsim@daf.qld.gov.au

Mandate:
Facilitation of research collaboration, co-development and management of research tools, methods and resources and influence systems research and design processes.

Website:
http://www.apsim.info/

Postal address:
Building 32, 1 James Cook Drive
James Cook University
Townsville Qld 4811
Australia

Email:
itrh-apb@jcu.edu.au

Research schools:
Black tiger prawn, family production, genomic sequence, genomic resources, phenotype acquisition, genomic prediction

Website:
https://www.jcu.edu.au/prawn-breeding-hub

Postal address
Australian Centre for International Agricultural Research
GPO Box 1571
Canberra, ACT 2601
Australia 

Email:
Fill the contact form here

Research programs:
Agribusiness, crops, fisheries, forestry, horticulture, impact evaluation, livestock systems, social science, soil and land management, water and climate.

Website:
https://www.aciar.gov.au
 
Address
Australian Institute of Marine Science
1526 Cape Cleveland Road
Cape Cleveland, QLD 4810
Australia 
(Other addresses here)

Email:
web@aims.gov.au

Mandate:
Oceans and coastal ecosystems, marine resources, discovery and development of new marine-based bioproducts for industry and human health, marine biotechnology.

Website:
https://www.aims.gov.au/

Postal address:
The Australian National University, College of Science
Peter Baume Building #42
Linnaeus Way
Canberra ACT 2600
Australia

Email:
science.enquiries@anu.edu.au

Research schools:
Research school of Biology
Fenner School of Environment and Society

Website:
http://science.anu.edu.au

Postal address:
Building 67, 1 James Cook Drive
James Cook University
Townsville, QLD 4811
Australia

Email:
rocky.denys@jcu.edu.au  

Research:
Macroalgal, biorefinery, human health and nutrition, fertilisers and biostimulants, animal health and nutrition, municipal wastewater treatment.

Website:
https://www.jcu.edu.au/macro

Postal address:
The Science Place, Building 142, 1 James Cook Drive
James Cook University
Townsville, QLD 4811
Australia

Email:
cstfa@jcu.edu.au

Research:
Aquaculture research, sustainable wild fisheries, novel aquatic products and applications, aquatic animal health, seafood, health and allergens, human dimensions of aquatic resources and production

Website:
https://www.jcu.edu.au/tropical-fisheries-and-aquaculture

Postal address:
Condobolin Agricultural Research and Advisory Station
PO Box 300
Condobolin NSW 2877
Australia

Email:
condobolin.office@dpi.nsw.gov.au

Mandate:
Farming systems research, livestock and pasture management, genetics and physiology of wheat.

Website:
https://www.dpi.nsw.gov.au/about-us/science-and-research/centres/condobolin
Postal address:
Department of Agriculture and Fisheries, Queensland Government
GPO Box 46
Brisbane QLD 4001
Australia

Email:
callweb@dpi.qld.gov.au
Or submit an enquiry filling this online form

Mandate:
Animal production and health, plant production and protection, crop biotechnology, fruit and vegetable biotechnology, fisheries and aquaculture biotechnology, animal biotechnology

Website:
https://www.daf.qld.gov.au

Postal address:
Melbourne Burwood Campus:
221 Burwood Highway, Burwood, Victoria 3125

Other campus: https://www.deakin.edu.au/locations

Email:
Various contact: https://www.deakin.edu.au/contact-us

Research:
Biotechnology and bioinformatics

Website:
https://www.deakin.edu.au/

Postal address:
Department of Agriculture and Food, Government of Western Australia (DAFWA)
Locked Bag 4
Bentley Delivery Centre, WA 6983
Australia

Email:
enquiries@agric.wa.gov.au

Mandate:
Animal and plant health, biotechnology, crops, environment, horticulture, weeds, support biotechnology.

Website:
https://www.agric.wa.gov.au/

Postal address:
Department of Agriculture and Water Resources
GPO Box 858
Canberra ACT 2601
Australia

Email:
Online form

Mandate:
Support meat, wool and dairy, horticulture, crops and wine,  international food standards, biotechnology research and innovation.

Website:
http://www.agriculture.gov.au/

Postal address:
Elizabeth Macarthur Agricultural Institute
Private Bag 4008
Narellan NSW 2567
Australia

Email:
emai.office@dpi.nsw.gov.au

Mandate:
Citrus pathology, microbiology, molecular biology, marker-aided selection, virology.

Website:
https://www.dpi.nsw.gov.au/about-us/science-and-research/centres/emai

Postal address:
Multiple location of campus: https://www.griffith.edu.au/about-griffith/campuses-facilities

Email:
General:
Brisbane: +61 7 3735 7111
Gold Coast: +61 7 5552 8800
Technical support: ithelp@griffith.edu.au

Research:
Clinical and environmental microbiology, bioinformatics, protein science, molecular biology and genomics

Website:
https://www.griffith.edu.au/

Postal address:
Plenty Rd & Kingsbury Dr,
Bundoora VIC 3086
Australia

Email:
General: Click here

AgriBio The Centre for AgriBioscience
Email: ste_ask@latrobe.edu.au
La Trobe Animal Research and Teaching Facility (LARTF)
Email: LARTF@latrobe.edu.au
Tel: 03 9479 2732

Research Centres:
Deparment of Agricultural Sciences
AgriBio The Centre for AgriBioscience
1. DNA sequencing and genotyping for plants, livestock and microbes.
2. Specialised software for bioinformatics and complex statistical analysis.
3. A Nuclear Magnetic Resonance spectrometer and multiple mass spectrometers.
4. Controlled Environment Rooms for plant and pest research.
La Trobe Institute for Molecular Science (LIMS)
The Institute's vision is achieved through excellence in four thematic areas of research strength: Cancer, Infection and Immunity, Molecular Design and Nanoscience.LIMS also has two embedded biotech companies: Hexima Limited, which is developing plant-derived proteins and peptides for applications such as human therapeutics and the genetic modification of crops; and AdAlta Limited, which is developing the next generation antibody platform, the i-body, to deliver high affinity and specific biologics against a variety of therapeutic and diagnostic targets.
La Trobe Animal Research and Teaching Facility (LARTF)
1. Agistment, husbandry and colony management for rats, mice and zebrafish, including genetically modified strains
2. Specialised care and housing for avian, reptile and native animals
3. Behavioural neuroscience suites with state-of-the-art behaviour testing equipment
4. Fully equipped surgical facilities with isoflurane anaesthesia and instrument autoclave
5. PC1 and PC2 certified Specified Pathogen Free and conventional facilities
Website:
https://www.latrobe.edu.au/

Address:
Murdoch University, School of Veterinary and Life Sciences
South Street Campus, 90 South Street
Murdoch, WA 6150
Australia

Email:
VLS@murdoch.edu.au

Research:
Animal and human health, animal production health and welfare, crop production and biosecurity, ecology people and environment, marine estuarine and freshwater science, wildlife biology and conservation.

Website:
http://www.murdoch.edu.au/School-of-Veterinary-and-Life-Sciences/

Address:
New South Wales Government, Agriculture Division
Locked Bag 21
Orange NSW 2800
Australia 

Email:
nsw.agriculture@dpi.nsw.gov.au

Mandate:
Livestock, field crops and pastures, horticulture, natural resources, molecular biological and recombinant DNA technologies, bioinformatics, molecular phylogenetics and marker assisted selection.

Website:
https://www.dpi.nsw.gov.au/agriculture

Address:
Queensland Alliance for Agriculture and Food Innovation (QAAFI)
Level 2, Queensland Bioscience Precinct
Building #80, 306 Carmody Road
The University of Queensland
St Lucia QLD 4069
Australia 

Email:
qaafi_admin@uq.edu.au
Director: robert.henry@uq.edu.au

Research Themes:
Animal Science (pest and diseases, production systems, animal welfare), Crop Science (crop improvement, farming systems, weed biology and management, grain crop physiology and modelling, soil nutrition and health), Horticultural Science (horticulture crop breeding, plant protection, emerging technologies), Nutrition and Food Sciences (smart selections, naturally nutritious, uniquely Australian).

Website:
https://qaafi.uq.edu.au

Address:
RMIT University,
GPO Box 2476,
Melbourne VIC 3001
Australia

Email:
Phone: +61 3 9925 2000

Research:
Applied biology and biotechnology

Website:
https://www.rmit.edu.au/

Postal address:
State Agricultural Biotechnology Centre, Loneragan Building
Murdoch University
90 South Street
Murdoch, WA 6150
Australia

Email:
SABC Director: m.jones@murdoch.edu.au
SABC Manager: d.berryman@murdoch.edu.au

Mandate:
Multidisciplinary research in biotechnology (agricultural and veterinary industry), research in biomedical sciences and environmental biotechnology.

Website:
http://www.murdoch.edu.au/Research-capabilities/SABC/

Postal address:
John St, Hawthorn VIC 3122,
Australia

Email:
Various contact: https://www.swinburne.edu.au/contact/

Research:
Biotechnology, including molecular biology, biochemistry, microbiology, and medical, industrial, forensic, agricultural and environmental biotechnology

Website:
https://www.swinburne.edu.au/

Postal address:
SARDI Head Office
GPO Box 397
Adelaide SA 5001
Australia

Email:
Online form for General Enquiries
Or pirsa.sardi@sa.gov.au

Mandate:
Agricultural, horticultural, fisheries and aquaculture, management and industry development, molecular breeding, marine biotechnology.

Website:
http://pir.sa.gov.au/research

Postal address:
Military Road
PO Box 157
East Lismore, NSW 2480
Australia

Email:
Deputy Vice Chancellor (Research): susan.nancarrow@scu.edu.au

Research centres:
Southern Cross Plant Science, Forest Research Centre

Website:
https://www.scu.edu.au

Address:
Queensland Biosciences Precinct (Building 80), Room 3.272
The University of Queensland
Brisbane, QLD 4072 
Australia

Email:
genomics@uq.edu.au

Research focuses:
Agricultural production, animal genetics, drought resistant crops, plant genomics and the genetics of targeted food crops

Website:
https://genomics.uq.edu.au
Postal Address:
Faculty of Science Office
Level 2, Carslaw Building (F07)
The University of Sydney
NSW 2006
Australia

Email:
science.information@sydney.edu.au

Research areas:
Agricultural chemistry and soil sciences, biological sciences, biotechnology, molecular biosciences, more information here
The University of Sydney Institute of Agriculture

Website:
http://sydney.edu.au/science/

Postal address:
University of New England
Armidale NSW 2351
Australia

Email:
Various contacts here

Research:
Agricultural Sciences, and Biological Sciences
Research centres: Animal Genetics and Breeding Unit, Cotton Hub

Website:
http://www.une.edu.au

Address:
The University of Western Australia
35 Stirling Highway
Perth, WA 6009
Australia
Email:
Deputy Vice-Chancellor (Research): dvcr@uwa.edu.au
More contacts here

Research institutes:
UWA Institute of Agriculture
UWA Oceans Institute

Website:
https://www.uwa.edu.au

Address:
Biological Sciences – Building 35.G19
University of Wollongong
Northfields Avenue
NSW, 2522
Australia

Email:
biology-enquiries@uow.edu.au

Research areas:
Terrestrial ecology, cell biology and biotechnology, animal physiology and systematics, plant physiology and molecular biology

Website:
https://smah.uow.edu.au/biol/index.html

Postal address:
School of Biotechnology and Biomolecular Sciences (BABS),
UNSW Sydney,
NSW 2052,
Australia

Email:
General contact: Click here
BABS School Office:
Room 520, Level 5
Biological Sciences North Building (D26)
Upper Kensington Campus, UNSW
Phone: +61 2 9385 2029
Email: babs@unsw.edu.au
Faculties / Research centres:
The School of Biotechnology and Biomolecular Sciences (BABS): Genomics and Bioinformatics, microbiology and microbiomes, molecular and cell biology
Ramaciotti Centre for Genomics: Short Read Next Generation Sequencing, long Read Next Generation Sequencing, Sanger Sequencing, Gene Expression & Genotyping, Single Cell Genomics
The NSW Systems Biology Initiative: Systems biology

Website:
https://www.babs.unsw.edu.au/